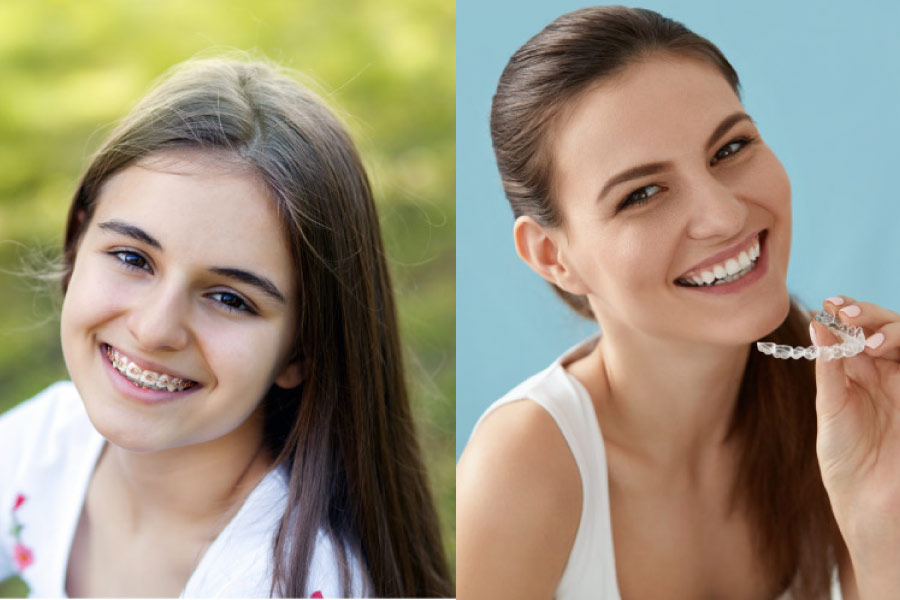 Do you currently have crooked, misaligned teeth? If so, you may be looking at what your orthodontic options are to achieve a straighter smile. In this blog, we'll talk about the differences between Invisalign® clear aligner therapy and traditional metal braces!
Function
Invisalign utilizes clear, plastic aligners to gently push teeth into their desired positions through a series of aligners. Traditional braces use brackets glued to the teeth and wires to push and pull teeth into the right position. Although most misalignments can be corrected with Invisalign, traditional braces are preferred for severely misaligned teeth.
Appearance
Invisalign's aligners are see-through, so many people won't even notice when someone is wearing them. Traditional braces are more noticeable, but you can opt for the clear brackets if you'd like for a slightly more discreet appearance.
Convenience
Aligners can be removed when you eat, brush, and floss. You don't have to worry about trying to brush around your orthodontic appliance and you can take them out for big events and photos. Braces can't be removed and will stay on for the remainder of your treatment.
Comfort
Invisalign's aligners are made from a smooth plastic so they won't poke the inside of your cheeks or lips and cause discomfort. Braces are more likely to irritate the gums and the inside of your cheeks. You should also use caution when playing sports with braces. If something hits your mouth, it can cause damage or bleeding.
Timeline
In general, Invisalign has a faster treatment time compared to traditional metal braces. However, it varies greatly based on each patient's case. Your clear aligners must be worn for at least 22 hours a day for the treatment to progress on schedule.
Budget
On average, traditional braces are slightly more affordable than Invisalign. However, because each case is unique, this is not always the case. Drs. Joseph and Gabrielle Ramellini will go over your treatment plan with you in advance so you'll know what to expect. Our Clyde, NC office offers several convenient payment options to make it easier for our patients to afford their orthodontic treatment.
Choosing Your Treatment
There isn't a right or wrong when it comes to choosing which treatment is right for you. Each patient is unique! At Peak Dentistry, we can examine your smile, discuss your smile goals, and go over your budget to determine which cosmetic treatment best fits your individual needs. Contact us to book your consultation!
Contact Us