Emergency Dental Care in Clyde, NC
When a dental emergency strikes, you need an emergency dentist as quickly as possible. The moments immediately following a dental accident are critical for saving your tooth and minimizing damage. At Peak Dentistry, we understand this, and we're committed to getting you an emergency dental appointment the same day you call. Contact our office today!
Schedule an Appointment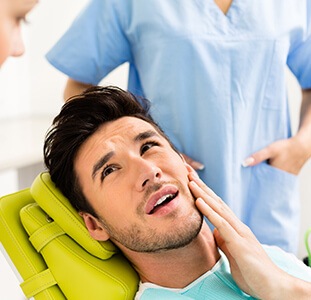 Common Dental Emergencies
---
Emergencies affect every patient differently. However, there are a few dental emergencies that are rather common. Call our office immediately if you are experiencing any of the following:
Knocked-Out Tooth
Broken Tooth
Excessive Bleeding or Swelling
Severe Toothache
Lost Filling or Restoration
Best Practices in a Dental Emergency
---
Before your emergency dentist appointment, there are a few things you can do to reduce pain and increase your chances of saving your tooth. If you're suffering from a broken or knocked-out tooth, retrieve all of the pieces, gently rinse them, and attempt to place them back into the socket. If that is not possible, transport them to our office in a cup of milk to protect the root. If you're experiencing excessive bleeding, place gauze on the affected area until bleeding subsides. For severe toothaches, gently floss around the area to ensure there are no lodged food particles causing pain. Most importantly, notify our office of your dental emergency as quickly as possible.
Preventing a Dental Emergency
---
Many dental emergencies can be avoided by maintaining a rigorous dental hygiene routine and attending your biannual cleanings. However, there are some dental emergencies that arise unexpectedly. If you're actively involved in sports or other physical activity, you can protect your teeth by wearing a mouthguard. Similarly, damage from grinding your teeth at night can be prevented by wearing a nightguard while you sleep.