Dental Implants

in Clyde, NC

Tooth loss is a common occurrence, but that doesn't mean you have to settle for a smile with spaces or a life with difficultly chewing and speaking. One of the most popular ways to replace one or multiple missing teeth is with dental implants.

At Peak Dentistry, we are happy to provide start-to-finish dental implant services. We say start-to-finish because many dental practices have to refer their patients out for the first step, the implant placement procedure. We can provide the placement as well as the restoration that goes on top, and we can even secure your dentures using dental implants.

Contact Us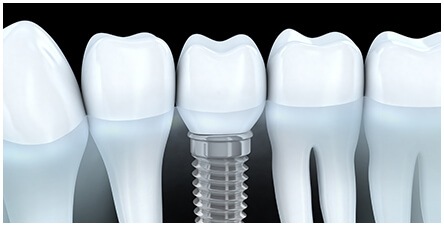 What are the benefits of dental implants?
---
There are many different reasons why patients prefer dental implants over other options like bridges or dentures. One of the main benefits is simply that they are really the next closest thing to natural teeth. They're permanently placed in your gums so they feel and function just like your surrounding teeth, and they can last a lifetime in the right circumstances. We also custom design each dental implant to look natural in your smile so that it'll be hard for anyone to pinpoint which teeth are real and which are fake.
Dental implants have many additional health benefits as well. Being placed in the gums means they stimulate the bone and prevent jawbone deterioration (which can occur when teeth are missing). They also serve as a kind of placeholder so that your other teeth don't start shifting into the open space, changing your teeth alignment or causing other dental issues.
What is the dental implant process?
---
The dental implant process consists of two main steps. Dental implants essentially act as an artificial tooth root, so we first surgically place the biocompatible implant in your jawbone. We know this can sound a little scary at first, but it's a safe, standard procedure and we have anesthesia available.
After we've let your gums heal and the implant fuse with your jawbone, we complete the treatment by placing a restoration. This restoration is the part that goes on top of the dental implant and actually looks like a tooth.
How much does a dental implant cost?
---
Every dental implant case is unique so it's difficult to give an estimate without seeing you in person. There are a number of factors that go into cost such as how many teeth you're replacing and the overall condition of your dental health. We invite you to schedule an implant consultation with us so we can perform an assessment to give you a better idea of pricing. We also have financing options to help you fit dental implants into your budget with low payments.