Periodontal Therapy in Clyde, NC
Looking for a dentist in Clyde that can treat all forms of periodontal disease, including severe periodontitis? Peak Dentistry provides exceptional periodontal therapy that is designed to help patients achieve and maintain positive oral health. Whether you routinely schedule periodontal treatments or you're just beginning your journey toward healthier gums, our team would love to help. Contact us today!
Contact Us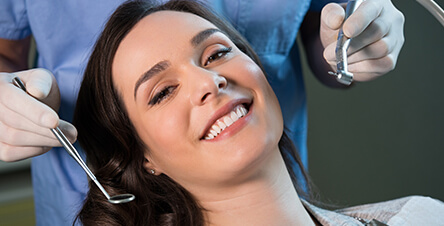 What is periodontal therapy?
---
Periodontal therapy can include everything from consultations to deep cleanings to surgery. Our office provides a variety of periodontal services, and we'd be happy to create a custom treatment plan just for you. Scaling and root planing, or deep cleanings, are common services that patients with periodontal disease schedule to clean above and below their gumline to help prevent their periodontitis from advancing. We also offer gum graft procedures, which involve taking tissue from the roof of the mouth and using it to repair damaged gums.
Restore the appearance of your smile
Protect weakened or damaged teeth
Evenly distribute the force of the bite to surrounding teeth
Help maintain the shape of the face
Prevent other teeth from drifting out of position
Does gum disease go away on its own?
---
As much as we wish our dental issues would resolve themselves on their own, gum disease in any form requires additional care and expertise from a knowledgeable dental professional. When gum disease is not treated properly, it can develop and become much harder to manage and result in infections, tooth loss, and other oral and overall health issues. If your gums have become more sensitive, changed in color, appear puffy or swollen, or frequently bleed, please contact our office to schedule an appointment with our team.
---
Which treatment is right for me?
The treatment or treatments you will need will depend on a few different factors, including the severity of your gum disease. Gingivitis, for example, can often be treated with an enhanced oral care routine and regular visits to our office. Scaling and root planing can be performed on patients with mild, moderate, or severe periodontal disease who need extra assistance removing plaque and tartar from their gum pockets and keeping their gums as healthy as possible. Patients who have gum recession or damaged gums may benefit from a gum graft or additional gum care.
Contact Us