Nightguards & Mouthguards in Clyde, NC
If you or your child are involved in aggressive contact sports, custom athletic mouthguards that are regularly worn during games and practices can save a lot of time, money, and pain down the road. Likewise, custom nightguards protect the teeth from damaging each other when a patient clenches and grinds their teeth during the night. To learn more about our custom oral appliances or schedule your next visit with us, please contact our office!
Contact Us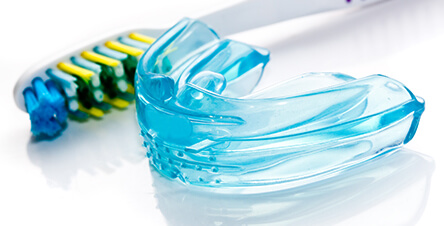 What are the benefits of custom oral appliances?
---
While custom nightguards and mouthguards tend to be more of an investment and can't be purchased and used right away like one-size mouthguards, we still recommend custom oral appliances for patients who will likely wear their mouthguard or nightguard frequently. This is because our durable mouthguards can last many years before they need to be replaced, and the custom-fit is more comfortable on the teeth than a one-size-fits-all oral appliance, which usually means the patient is more likely to wear it.
How will I know if I need a nightguard for bruxism?
---
There are a few signs that can indicate that wearing a nightguard would be beneficial for protecting your smile. If you frequently wake up with a sore jaw or your teeth hurt in the mornings, that can indicate that you are clenching and grinding your teeth throughout the night. Someone in your household may have mentioned hearing you grind your teeth as well. During dental exams, our team also looks for signs of gum recession and dental trauma, especially damage to the top of the teeth, and we can let you know if we think you need a custom nightguard.
How long does it take to get a custom mouthguard or nightguard?
---
It typically only takes a few weeks to have a custom oral appliance designed and created. Before your mouthguard or nightguard can be made, we will have to take impressions of your teeth to create the custom fit. These impressions are sent to an off-site lab where they will be used to design your mouthguard. Once we receive your mouthguard, another quick appointment will be scheduled so that you can try on your new mouthguard. We can make any necessary adjustments to ensure it fits well, and then you can take it home and begin using it!
Contact Us