Dental Bridges

in Clyde, NC

Dental bridges are three or more dental crowns that are attached together. Each bridge is customized to blend in with the surrounding teeth and fit perfectly over the abutment teeth. Once your custom dental bridge has been created, it will be placed and adjusted as necessary, and there is no healing period or downtime to worry about! To schedule your consultation with our team, please get in touch with our front office.

Contact Us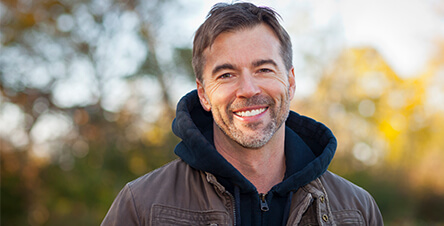 What are the benefits of dental bridges?
---
Dental bridges are often used to replace missing teeth or restore the appearance and functionality of one or more teeth that need extra protection from tooth decay and dental trauma. The benefits include:
Restore the appearance of your smile
Protect weakened or damaged teeth
Evenly distribute the force of the bite to surrounding teeth
Help maintain the shape of the face
Prevent other teeth from drifting out of position
How long does a dental bridge last?
---
Dental bridges typically last between 10 and 15 years on average, and the best way to ensure that your bridge lasts for as long as possible is to take care of your teeth to the best of your abilities and visit our office for routine cleanings and exams. While there are no food restrictions for patients who have dental bridges or crowns, we recommend that patients avoid chewing hard candy, ice, and popcorn kernels with both their dental restorations and natural teeth to avoid any potential damage.
Should I get a bridge or a dental implant?
---
Both options are excellent choices for replacing missing teeth, and the treatment you ultimately decide to pursue will be based on your unique oral health needs and preferences. Dental bridges are a more affordable tooth replacement option, and they are significantly less invasive than dental implants. Implants tend to last longer before they need to be replaced or modified in any way. If you aren't sure which option you would like to go with, we recommend scheduling a consultation with our team.
Contact Us