Invisalign® in Clyde, NC
Are you looking for a way to straighten misaligned teeth, close gaps, or fix crowding without spending years in clunky metal braces? At Peak Dentistry, we're proud to offer our patients Invisalign clear aligner therapy. This orthodontic option can give you a straighter, more beautiful smile in only about a year. The best part is it's nearly invisible, so unless you tell people you're wearing the trays, no one has to know!
Contact Us
How Does Invisalign Work?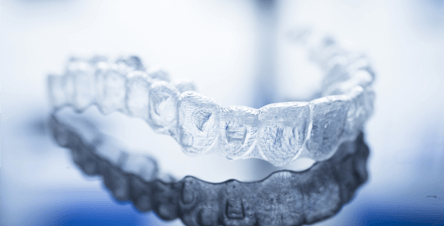 ---
Drs. Joseph and Gabrielle Ramellini like to say that Invisalign is the "clear" way to get a straighter smile. It works by using a series of clear plastic trays to gently and gradually reposition teeth that are misaligned, crowded, or gapped.
To begin your treatment, we take molds of your teeth. The lab uses these molds to create your first sets of trays. We also create a digital version of your smile so we can work with you to create your goal smile. We send this to the lab, too, so they know what we're working toward. Once your first trays are ready, you'll come in for a fitting and go home with your first few sets. Wear the first set for a minimum of 22 hours each day for about two weeks, and then switch to the next set. After you've made it through the first sets, you'll visit us for a check-in and to receive your next trays.
As you work through the series of trays, you'll notice your smile getting straighter and straighter until we reach the end of your treatment and you see your goal smile beaming back at you from the mirror!
What Are the Benefits of Invisalign?
---
Clear aligners are barely noticeable
Smooth plastic material doesn't irritate cheeks or gums
Trays are removable – eat, drink, brush, and floss like normal
Treatment time is shorter than metal braces – about a year on average
How Much Does Invisalign Cost?
---
At Peak Dentistry, we do our best to always provide high-end care at affordable prices, even when it comes to cosmetic treatments and Invisalign braces. Before beginning your treatment, we'll go over your estimated costs and your financial options so you can decide what's best for your budget. We accept two flexible financial options that allow you to split up your out-of-pocket costs. If you have any questions, don't hesitate to ask one of our friendly team members.