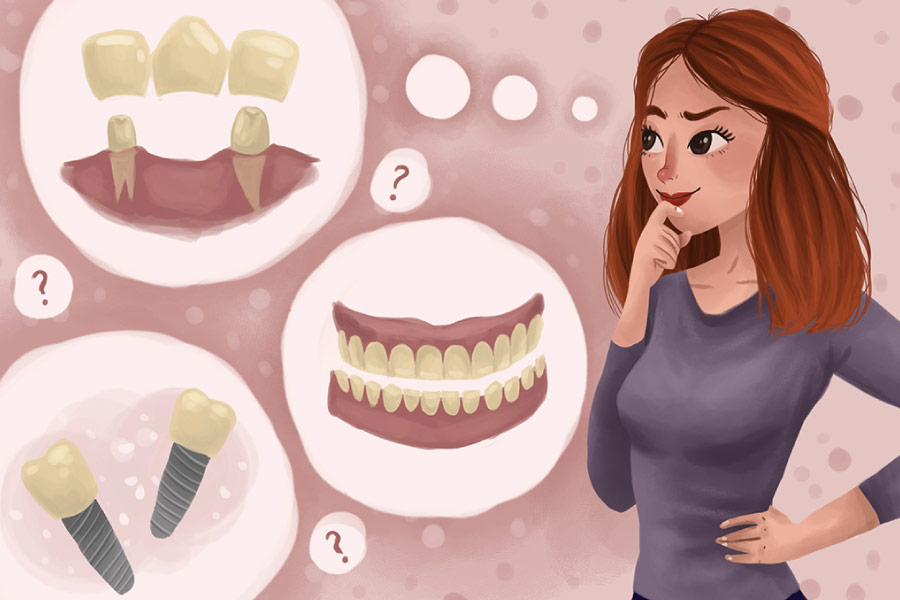 There are many choices for replacing missing teeth in our day and age. That's great, but it can be hard to understand the differences between the options and which might be best for you. Dental implants and dentures are two of the most popular restorative procedures for patients with missing teeth. Here's some more information to help you know how each works.
How Dental Implants Work
Dental implants are a type of tooth-replacement option that most closely mimics how real teeth sit in the mouth and function. The implant itself looks similar to a screw and acts as the artificial tooth root. It is surgically placed directly into the jawbone. Once it has healed and fused with the bone, a restoration like a dental crown is put on top. This is what makes the dental implant look like a real tooth. Dental implants involve oral surgery, but many people prefer them because they're permanently placed and they don't require any special care except for what you would do for your other teeth.
How Dentures Work
Dentures have been around for literally centuries. Of course, the kinds we use today are far more advanced and natural-looking than what they had in the past! There are full dentures, which replace an entire arch of teeth (either the top or bottom), and there are partial dentures (which replace multiple teeth when some natural still remain). Some dentures remain in place because there's a seal created between the appliance and the gums. Other times, dentures are fixed in place because of an attachment to the remaining teeth or to dental implants.
Deciding What's Best for You
After reading about how each of the tooth-replacement options works, you may have an idea about which one you'd prefer. To know for sure, you should make an appointment with the Ramellini doctors. Then, you can get into the specifics about whether you qualify for both or either, as well as what each treatment might cost you based on your unique case.
Restoring Smiles in Clyde, NC
Contact Peak Dentistry today and our team would be happy to set you up with a consultation. We'll go over your oral health history and address your questions in order to provide you with a recommendation. We provide both dental implants and dentures at our practice in Clyde so we can advise you on the pros and cons of both.
Contact Us