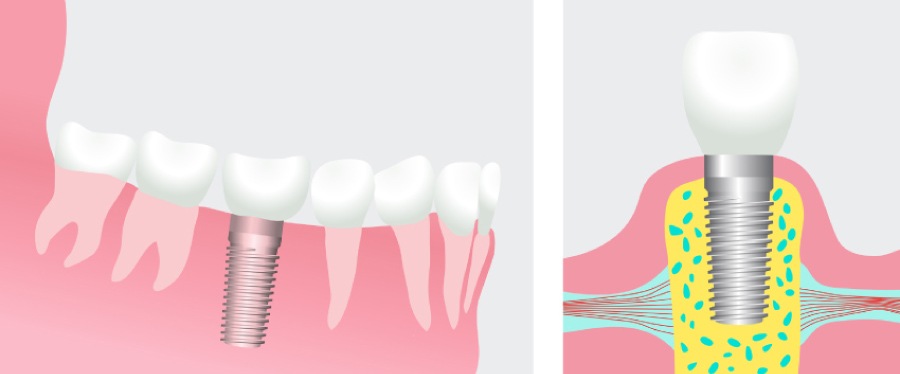 When you start losing your teeth, you have three options – dental implants, dentures, or not replacing the teeth. If you choose to not receive restorations, you may not be able to chew or speak normally, among other issues. Therefore, for many patients, the decision comes down to dentures or dental implants. As dental professionals, Drs. Joseph and Gabrielle Ramellini would like to provide insight into the benefits of opting for dental implants.
Look Natural
When you're comparing dental implants and dentures, you should understand that dental implants look more natural than dentures because we implant them into your jaw. Each tooth is an individual crown placed on the implant, and it consists of material that looks similar to your original teeth. Another benefit of an implant is that it helps maintain the integrity of your jawbone. Bone loss occurs when teeth fall out but with implants your face retains its natural shape.
Chew Normally
As mentioned above, dental implants are surgically inserted into your jaw. Therefore, they don't slip out of place. This makes it easy to chew normally as if you had your natural teeth. Dentures also restore your ability to chew but they can slip and take a little adjustment on your part before they feel comfortable.
Easy to Care For
Dental implants are easy to take care of. They require minimal maintenance, unlike dentures that require you to remove them each night to care for them. With dental implants, you can continue your normal dental hygiene routine of brushing and flossing. They don't require any special solutions, and you don't need to use any messy adhesive.
Comfort
Comfort is another benefit of opting for dental implants. Since they become part of your jawbone, they don't rest on your gums, therefore they don't irritate your gums. Once the implants heal, you won't experience any pain or discomfort.
Can Speak Normally
Dentures can interfere with your ability to speak normally because they can shift out of place. Dental implants, on the other hand, don't cause this issue. Once we implant them, they work just like your natural teeth.
Last a Long Time
As long as you care for your implants properly, they'll last a lifetime. They're extremely durable. You just have to avoid eating hard foods and chewing on ice.
Dental Implants in Clyde, NC
Come visit with us at Peak Dentistry. Our professionals will help you understand the options available to replace your missing teeth. We will also explain the many options we provide to make it easier to pay for your restoration. We look forward to seeing you in our office soon.
Contact Us